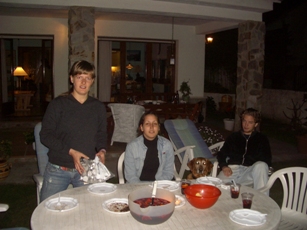 BBQ COSTA MARESME!
In April 2005 we had the annual bbq at Mette's parents place, and it was really fun. Great to get out of the city for a change, and not to forget, to meet new people as well! This year there were ten of us; but some times it could seem like we were twenty! Eric was as usual the chef, making delicious food, while the girls were in charge of the sangria, hehehe. And of course we had to taste a 'little' while we were making it:-)
After the great meal, and already halfway down the sangria bowl, it was time for some drinking games. The favourite game was 'never, ever', and a lot of dirty and shocking information, not mentionig details, came up! Lucky for the neighbours that they weren't home!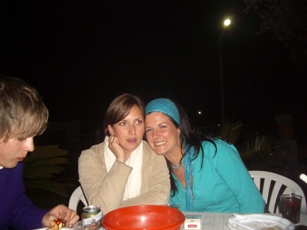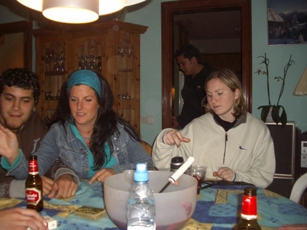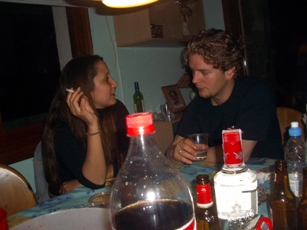 Because this was in April, it got to cold to sit outside, buhuu, so we moved the party inside. We continued the games, and during their drunkness, some even got into some serious conversations. But it did not last that long!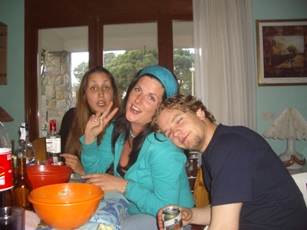 Some of us went to bed at a reasonable time, and those who didn't could not let this golden opportunity of being mean to them, get away. So they tried their best to piss people off, by doing some cruel things;-) And the last person to go to bed was Mari, at 10 o'clock!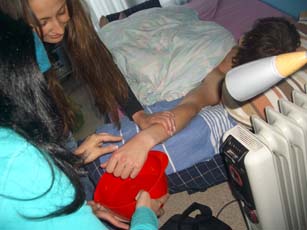 She was also the first one to get up, (well, she didn't sleep at all that night), at about twelve. She was of course still drunk and still in the party mood, obviously, when she found this wig! Love your hair, babe!! And these poor guys had been sleeping in the living room, how they could sleep in all the noise beats me!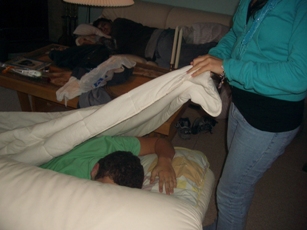 The day after we just had to go to the beach. Fortunately we didn't drive into any police controls, because then I think some would be in big trouble. Some of us were still a little drunk, some more then others of course! Craving for some food and beer after last nights partying, we stopped at a place by the beach to eat and also to catch up on things that happened the night before. A little braindamaged all of us!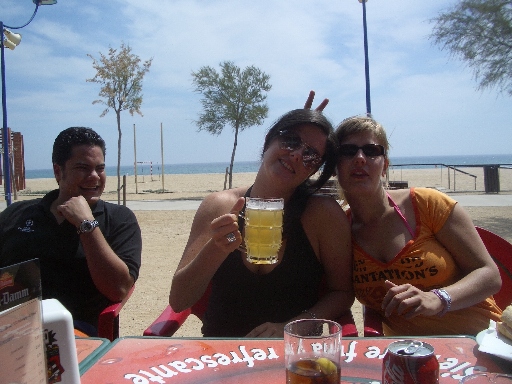 It was just great to finally get down to the beach, but a little bit cold. That didn't matter too much to those who took the first dip of the year in the water. Others fell asleep, can't imagine they dared to do that after what the girls had done to them during their sleep the night before:-)
This was one of the funniest things I have ever done during my stay in Barcelona. Special thanks to Mette's parents that was so kind to let us borrow their house, thanks a lot u guys, and just a small reminder to those who was there: 'who do that?' See u maybe next year:-)